Baan Ing Phu presents an exceptional lifestyle experience that combines luxury, relaxation, and refined living in the picturesque setting of Hua Hin's stunning mountain vistas. Boasting meticulously designed villas, which can be customized to suit individual preferences, and a comprehensive range of five-star sports and leisure facilities, this expansive private estate encompasses over 14 hectares, solidifying its status as one of the largest and most sought-after property developments in the region.
The Concept
Baan Ing Phu offers an extraordinary lifestyle that epitomizes relaxation and refined living. Surrounded by stunning views of the neighboring Black Mountains, this private estate is a sanctuary for discerning homeowners. With beautifully designed private villas blending Eastern and Western influences, Baan Ing Phu allows owners to create their dream homes using the finest local materials. It's an exceptional living experience beyond typical luxury estates.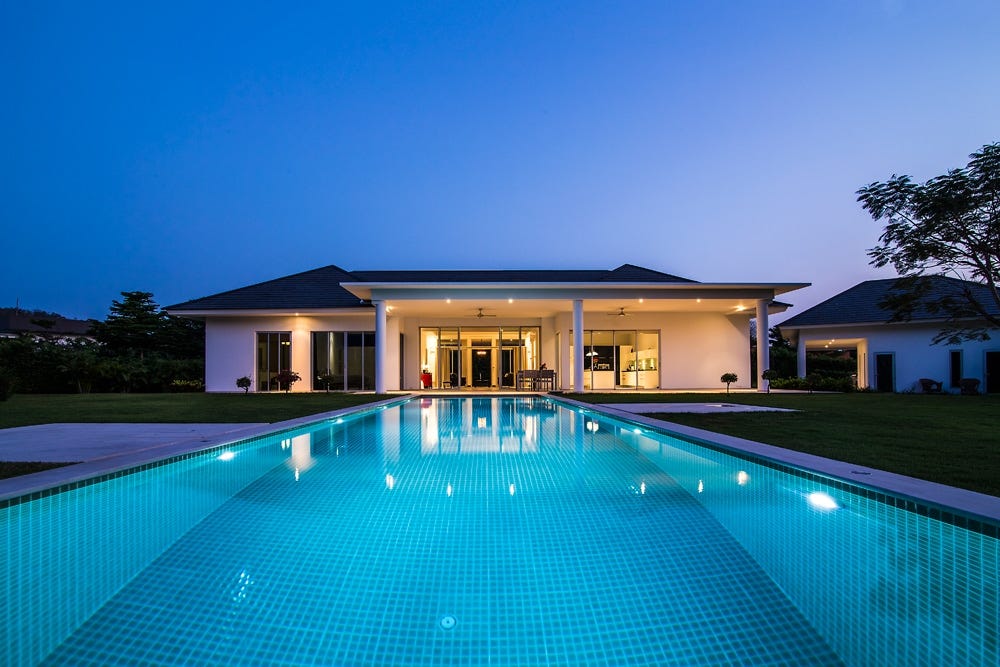 Custom Design
Baan Ing Phu specializes in custom-built villas tailored to meet your specific requirements and imagination. Whether it's an outdoor cinema, private SPA, Chef's kitchen, or a resort-style pool, Pure Eight will bring your vision to life. We also offer consultation for villa or luxury condominium development in other locations. With our professional staff's expertise, we transform clients' dreams into reality, creating exceptional luxury homes.
Elevate your fitness journey and prioritize your well-being at Pure Fitness by Baan Ing Phu. Our state-of-the-art training center provides an extensive selection of top-notch equipment, complemented by experienced trainers who are readily available to offer guidance and support.

Unlock your potential with our range of personalized training sessions, designed to cater to both indoor and outdoor sports. Collaborating closely with you, we will create a customized program that aligns with your goals and helps you achieve the desired results.

Experience our specialized training sessions, including Personal Training, Thai boxing, Yoga, and Tennis, as we empower you to exercise in style and take charge of your health and fitness.
Experience the Bubble restaurant, an exquisite offering by Baan Ing Phu, nestled away from the bustling Hua Hin scene. Whether you seek a tranquil day spot for coffee, newspaper reading, or a leisurely lunch, or an evening rendezvous with friends accompanied by a fine bottle of wine and delectable Thai or Western dinner expertly crafted by our chef, the Bubble has it all. Indulge in a diverse array of delightful and nourishing dishes, meticulously prepared with the finest organic ingredients. The Bubble welcomes you from 12 noon to 9 pm daily, with Mondays as our designated day of closure.
Baan Ing Phu extends its services to encompass property rental, ensuring a seamless and satisfying experience under the attentive care of our management team. This convenient solution caters to both prospective homeowners and holiday renters, offering Villa rentals for both short-term stays and longer durations.

To create a warm and inviting atmosphere for our guests, our dedicated team takes care of essential preparations prior to arrival. This includes stocking the villa with basic food products and flowers through our "welcome shopping" service, as well as providing well-trained and service-minded staff to attend to their needs.

Renting a villa at Baan Ing Phu also presents an ideal opportunity for those seeking to experience living in Thailand before making a purchasing decision. With competitive rental rates available for both short and long-term periods, Baan Ing Phu welcomes guests to indulge in the comforts and allure of our exquisite properties.